Diseases & Conditions
Patient Story: Orthopaedic Trauma and Arthritis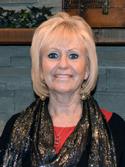 Shortly after starting a new job as a flight attendant, 23-year-old Pamela Schroeder was in a terrible auto accident. The accident claimed the lives of two people and severely injured four. Pam's lower body was completely crushed. Nearly every bone had been broken, including both legs and her spine. Only her arms and neck were spared. She had a collapsed lung and a ruptured spleen. Doctors were unsure if she would survive the night.
It was a miracle Pam survived. Shortly after the accident, Pam had surgery to repair her crushed ankle and lower spine. Six pins were used to stabilize her ankle. Two separate spinal surgeries fused nine of her vertebrae, sparing her from paralysis. Three bone grafts were required.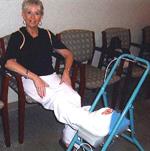 Months of intensive physical therapy followed. Eventually, Pam was able to walk again and slowly was able to return to her job. Her activities were limited, and her lifestyle changed completely. "I cannot risk damaging my spine and joints, so I have to be careful in choosing the activities I can do," she says. She has never been able to return to skiing and dancing, two of her favorite pastimes before the accident. However, she is grateful for the ability to walk and to not be confined to a wheelchair. Pam's tenacity allowed her to raise two children and work to support them.
Over the last three decades, Pam has had multiple subsequent surgeries due to damage from the accident and joint deterioration from posttraumatic arthritis. She struggled with significant pain in her back and ankles. In 2008, Pam had her knee replaced. In 2005 and 2009, she had total ankle replacement surgeries. Recently, in September 2012, Pam had a second knee replacement surgery, marking her 33rd surgery in 33 years. The joint replacement surgeries helped Pam live with a lot less pain. She still faces challenges with climbing stairs, lifting, and bending due to her spinal fusions.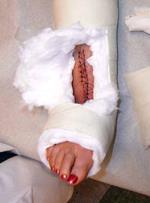 "The accident completely changed my life," Pam states. "There are so many things I could never try or had to give up. There were years of pain and surgeries, and my quality of life changed. However, I am grateful for what orthopaedic surgery has done to help my life."
More than three of every five injuries that occur annually in the United States are to the musculoskeletal system. In 2007, over 61.2 million musculoskeletal injuries were reported. Pam hopes that research funding will help continue to improve the technology available to treat orthopaedic trauma. "New technologies must continually be developed to successfully help treat patients in the future."
Pam is a dedicated advocate for orthopaedic surgery and advancements in musculoskeletal research. She served on the American Academy of Orthopaedic Surgeons Patient Advisory Board for five years and advocated on Capitol Hill for musculoskeletal research funding. Pam spends her free time talking to patients considering ankle replacement surgery. She takes pride in the work of her surgeons and her renewed lease on life.
Last Reviewed
August 2014
AAOS does not endorse any treatments, procedures, products, or physicians referenced herein. This information is provided as an educational service and is not intended to serve as medical advice. Anyone seeking specific orthopaedic advice or assistance should consult his or her orthopaedic surgeon, or locate one in your area through the AAOS Find an Orthopaedist program on this website.