Treatment
Patient Story: Ankle Joint Replacement
World traveler Patricia Johnson feels like she has been handed a second chance at life. When a slip and fall accident on black ice in the winter of 2000 shattered her right ankle, this mother of four thought she would never be able to walk again.
After the accident, Pat had immediate surgical repair followed by four months of a complete non-weight-bearing lifestyle. As her bones healed, Pat experienced increasing pain due to friction caused by the plates and screws used to stabilize her ankle. Her pain was intolerable, and in 2001, she had her hardware removed.
Over the next four years, Pat gave up all weight bearing sports, including alpine skiing and ice skating. Her ankle continued to deteriorate, with progressive degenerative arthritis making even the simple act of walking excruciating. In 2005, Pat had a cheilectomy, a surgical procedure to remove bone spurs and arthritic buildup in her ankle joint. She was the ideal patient, and committed herself to her physical therapy.
The cheilectomy was a temporary fix; three years later, Pat's pain returned and was rapidly escalating. She was informed that the only way to address the pain was to have an ankle fusion surgery. "Given my active lifestyle, fusion seemed unacceptable for the toll it would take on total body ergonomics," Pat recalls.
Determined to find an alternate solution, Pat enlisted the assistance of her daughter, a biomedical engineer. She applied to participate in a blinded clinical trial at Mercy Hospital in Baltimore investigating two types of artificial ankle implants. Pat was accepted in the clinical trial as a patient of John Campbell, MD, and underwent a total ankle replacement surgery in 2008.
"Diligence and commitment, thorough medical supervision, and appreciation for the opportunity offered by the trial have enabled me to persevere and enjoy a return to a very active lifestyle with only infrequent discomfort managed by common sense," she says.
After her ankle replacement, Pat spent two years working on recovering her range of motion, flexibility, and stamina in physical therapy three times each week. Pat was her therapist's first total ankle replacement patient; he developed a special rehabilitation protocol to achieve maximum improvement.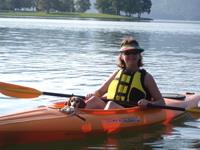 "Ankle replacement surgery gave me back my life," Pat proclaims. "I have gone from a state of constant, intense pain when bearing weight to an adapted lifestyle which allows near-normal activity throughout my day."
Pat is extremely vigilant in her recovery. She changes her shoes multiple times a day to adjust stress distribution on her ankle, and rests frequently. She does not participate in any physical activities that could jeopardize her ankle. She instead enjoys swimming, daily walks with her dog, boating, and playing with her young granddaughter. She continues to enjoy traveling the world - in sensible shoes, of course. "The profound improvement in quality of life offered by this device enables 3-dimensional range of motion, freedom from pain (except when profoundly fatigued), and a natural walking gait," she states. "I don't feel challenged, just grateful."
Pat understands first-hand the benefits of orthopaedic research. She believes that responsible, well-researched clinical trials seek solutions to improve the quality of life and enhance access to quality orthopaedic care. "Throughout my multiyear medical journey, Dr. Campbell and his team consistently provided patient care far exceeding the parameters of the clinical trial," she says. "My success is attributed to their compassion, consistency, patient interaction, and commitment."
Last Reviewed
October 2012
AAOS does not endorse any treatments, procedures, products, or physicians referenced herein. This information is provided as an educational service and is not intended to serve as medical advice. Anyone seeking specific orthopaedic advice or assistance should consult his or her orthopaedic surgeon, or locate one in your area through the AAOS Find an Orthopaedist program on this website.