Diseases & Conditions
Patient Story: Severe Injuries and Fractures Lead to Multiple Surgeries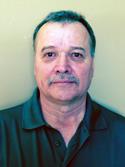 Randy Ridout counts himself lucky to be alive. On June 14, 2013, the lead mechanic was called to evaluate a new motor installation on a water pump. When he arrived, everything appeared ready to go. Within seconds, everyone knew something had gone terribly wrong.
The 3,000 pound motor had broken free from its mounting bracket. "Quickly turning to dive under a protected area, the motor struck me in the back." Randy recalls. On instinct, he shielded his head with his arm as the rotating motor shaft shredded his limb. The motor then landed on his foot, crushing his bones. Trapped on the ground and bleeding extensively, water from the broken piping was spraying over him. "Yelling for help, I prayed I wouldn't die from bleeding to death."
Using his other hand, Randy held his severed artery. Fortunately, a coworker quickly took over until the plant manager created a tourniquet using his belt. Randy was unable to move. He knew something was wrong with his back and could feel his foot in pieces in his boot.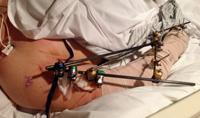 Within 90 minutes of the accident, Randy was in surgery at Hennepin County Medical Center. His arm was nearly amputated, mutilated from the wrist to just below the shoulder by the motor. Randy was in a coma for three days while doctors worked tirelessly to stabilize his body from the extensive damage. "I woke up to an external fixator along my entire right arm and right leg/foot holding my limbs together," he says. "I had 29 operating room procedures during my month long stay at the hospital."
A team of surgeons rebuilt his arm by grafting a brachial artery from his leg to recreate a blood supply and bone was grafted from his leg to repair the ulna. Multiple additional procedures helped rebuild his crushed wrist and elbow and repair damaged tendons and muscles. He required a skin graft from his thigh and hip to cover the large open wounds.
Randy's foot was crushed so severely that each of the 26 bones between his ankle and toes were broken multiple times. Randy was told that amputation would be his best option. "Once my foot was amputated, my life would never be the same," he laments. He sustained an infection in the residual limb, and was back in the operating room for a debridement procedure to remove the contaminated tissue. In March of this year, Randy had a partial knee replacement on the same leg.
In addition to the massive extremity trauma, Randy sustained a rare fracture to his sacrum, the large bone at the base of the spine. The fracture was stabilized with two screws, and he was immobilized for four months to avoid a spinal fusion. His sacrum healed, and his restrictions were eventually lifted. While he still has back pain and numbness, he is able to sit upright and walk.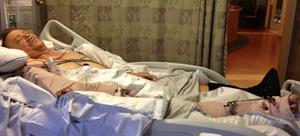 Randy is still recovering from the accident. He is not yet able to enjoy any of his favorite past times, like hunting, fishing, and golf. Slowly, Randy is regaining some nerve function in his arm and hand. He will never return to work in the same capacity, but his employer of 24 years arranged for him to work from home using a computer and voice recognition while he continues to heal.
Six months after the accident, Randy was finally able to bear weight and walk again, using a prosthetic foot. He is working with a physical therapist for gait training as well as a hand specialist to regain maximum function in his arm and hand. He has agreed to participate in a military research study on amputation.
Randy's greatest challenges are having the patience to relearn things he once took for granted, dealing with chronic pain, and coming to terms with the loss of his foot. Randy hopes to be able to be strong again and provide for his family, especially for his daughter, who has been living with a traumatic brain injury as the result of a tragic accident a few years ago. "Because of her accident, we have learned to have a positive outlook on life and this has helped me get through each day."
Last Reviewed
September 2014
AAOS does not endorse any treatments, procedures, products, or physicians referenced herein. This information is provided as an educational service and is not intended to serve as medical advice. Anyone seeking specific orthopaedic advice or assistance should consult his or her orthopaedic surgeon, or locate one in your area through the AAOS Find an Orthopaedist program on this website.