Recovery
Therapeutic Exercise Program for Epicondylitis (Tennis Elbow / Golfer's Elbow)
To ensure that this program is safe and effective for you, it should be performed under your doctor's supervision. Talk to your doctor or physical therapist about which exercises will best help you meet your rehabilitation goals.
Tennis elbow (lateral epicondylitis) and golfer's elbow (medial epicondylitis) are painful conditions caused by overuse. Over time, the forearm muscles and tendons become damaged from repeating the same motions again and again. This leads to pain and tenderness around the elbow.
Specific exercises to stretch and strengthen the muscles attached to the injured tendon will help with the healing process. The early goal of a therapeutic exercise program is to promote muscle endurance and improve resistance to repetitive stress. Following a well-structured program will help you return to daily activities, as well as sports and other recreational pastimes.
Click here to view and download this handout.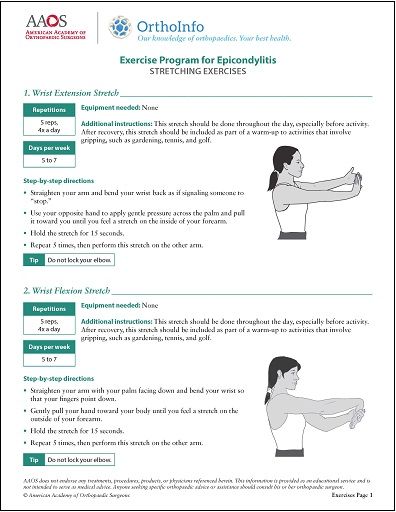 AAOS does not endorse any treatments, procedures, products, or physicians referenced herein. This information is provided as an educational service and is not intended to serve as medical advice. Anyone seeking specific orthopaedic advice or assistance should consult his or her orthopaedic surgeon, or locate one in your area through the AAOS Find an Orthopaedist program on this website.