Diseases & Conditions
Patient Story: Multiple Fractures in the Spine, Knees, and Ankles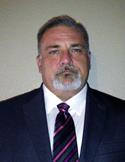 As a soldier in the United States Army, Bradley Davis was constantly in high-stress, physically demanding situations. Outside of his job, Brad played sports and was a regular in the weight room at the gym. He enjoyed spending his free time taking walks with his wife Lucie and their dogs. In October 2005, Brad was in an accident that changed his life.
During a military training exercise, Brad sustained multiple fractures in his spine, both knees, and both ankles. He was taken to a military medical facility, where he remained in intensive treatment for five months. His initial treatment was conservative; doctors wanted his injuries to heal and so they could see what damage remained.
"Although my knees and spine were fractured in several different places, the real problems started after they healed," Brad explains. "After a few years, bone spurs in my spine caused by the fractures began irritating nerves and causing severe pain, numbness and tingling in my back, shoulders, and arms."
Ultimately, Brad required multiple surgeries. In 2009, a severely damaged bone was removed and a spacer was inserted to replace the metatarsal joint in his foot. Additionally, Brad had spinal surgery to replace a disc in his cervical spine, involving multiple plates and screws. In 2011, he had revision spinal surgery as well as a left knee arthroscopy, which removed most of his damaged meniscus.
Brad developed severe posttraumatic osteoarthritis in his knees. "Over time, I was left with 'bone-on-bone' in my left knee joint," he laments. "The constant rubbing of the bones caused inflammation in the surrounding tissue and deteriorated the cartilage in the joint. This all lead to severe pain on a daily basis from the slightest movements."
The VA stated that Brad needed knee replacement surgery, but would not cover the procedure until he reached age 60. Only in his mid-40s, Brad could not afford to wait another fifteen years to walk without pain.
While Brad was researching alternative treatments, he came across an advertisement for Operation Walk USA, an independent medical humanitarian organization that provides free hip and knee replacement surgeries to patients in the U.S. The program, which is dedicated to restoring mobility, dignity, and productivity, benefits U.S. citizens who cannot afford surgery on their own and who do not quality for government assistance programs.
Several orthopaedic surgeons and medical support personnel throughout the country donate their time to the annual event, which takes place each December. Amanda Marshall, MD, an adult reconstruction orthopaedic surgeon at the University of Texas Health Science Center, was one of those surgeons. She performed Brad's total left knee replacement this past year.
Brad is grateful to finally have relief from the excruciating chronic pain. "Operation Walk USA was able to get the much needed surgery done for me," he says. After his knee replacement, Brad was in physical therapy 2-3 times a week for three months.
"I am still healing at this point, but even now I am able to walk my dogs, use the treadmill and stationary bike, and I can walk long distances with my wife without feeling the severe pain that kept me from doing so for so long," Brad proclaims. "I believe that I will soon be able to work again, as standing and walking for long periods is no longer a problem."
Brad is thrilled that he can once again go grocery shopping, attend his children's sporting events, and workout without pain. "I can once again enjoy life." He hopes that additional research dollars will help others suffering from orthopaedic trauma and posttraumatic osteoarthritis to live a more pain-free life.
Last Reviewed
September 2014
AAOS does not endorse any treatments, procedures, products, or physicians referenced herein. This information is provided as an educational service and is not intended to serve as medical advice. Anyone seeking specific orthopaedic advice or assistance should consult his or her orthopaedic surgeon, or locate one in your area through the AAOS Find an Orthopaedist program on this website.