Diseases & Conditions
Patient Story: Ankle, Elbow, and Vertebral Fractures

You may recognize his face from the WMC-TV evening news, but you may not know that Joe Birch almost lost his leg in a bicycling accident in 2013.
Joe Birch has been reporting the news for over 35 years in Memphis, Tennessee. He is extremely active in the community and has received numerous awards and accolades for his journalism and his philanthropy. Joe, an avid runner, has raised over $100,000 for St. Jude's Children's Research Hospital through his participation in eleven marathons and half marathons since the event began in 2002. He also co-founded a 5K run/walk event that raises money for St. Patrick Learning Center, Inc., a non-profit agency that serves local underprivileged families.
Running and cycling are as much a part of Joe's life as his career. In September of 2013, Joe was in a freak cycling accident that shattered multiple bones in his ankle.
Joe was taken to the Campbell Clinic, where an orthopaedic surgeon performed open reduction internal fixation to stabilize fractures in Joe's malleolus and talus bones. Joe had damaged the inferior tibiofibular joint, where the two long bones of the leg join near the ankle. A metal plate and multiple screws were inserted to stabilize the bones and promote the healing process, and infected tissue was removed. If the surgery was not successful, amputation was a possibility.
Fortunately, Joe's surgeries saved his ankle.
This was not Joe's first visit to the Campbell Clinic. Several years ago, Joe was treated for an elbow injury also sustained from a cycling injury. Under the expert care of Frederick Azar, MD, an orthopaedic surgeon specializing in sports medicine, Joe had an open reduction internal fixation surgery to stabilize and repair his broken elbow. He underwent a six-month recovery time before he was able to fully use his arm again. Dr. Azar, who is the chief-of-staff at the Campbell Clinic and president of the American Academy of Orthopaedic Surgeons, will soon perform another procedure to remove Joe's hardware.
In 2012, Joe was in a car accident that left him with a broken neck. Fortunately, the fractures in his cervical vertebrae did not require surgery and healed after three months in a stabilizing neck brace, thanks to Joe's excellent health and physical fitness. Joe considers himself to be one of Campbell Clinic's best customers.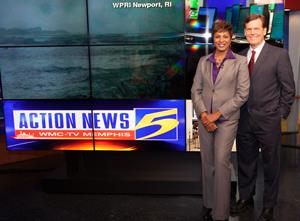 Joe's bike accidents have appreciably slowed his athletic lifestyle. His exercise environment is now significantly more controlled. Joe works with a physical therapist and is focusing on walking properly again. He diligently rides his stationary bike and lifts weights to stay active. Joe's running days are likely over, but he looks forward to a bright, accident-free future in cycling.
Joe was fortunate to receive outstanding orthopaedic care at the Campbell Clinic. His leg was spared, thanks to advancements in orthopaedic trauma care. "Since amputation was a possibility, more research into complex fracture repair may benefit other patients in the future."
Joe is a passionate advocate of medical research. In addition to his support of St. Jude's Children's Hospital, he dedicates his time and energy to raising funds for Alzheimer's research, in memory of his late father.
Last Reviewed
September 2014
AAOS does not endorse any treatments, procedures, products, or physicians referenced herein. This information is provided as an educational service and is not intended to serve as medical advice. Anyone seeking specific orthopaedic advice or assistance should consult his or her orthopaedic surgeon, or locate one in your area through the AAOS Find an Orthopaedist program on this website.