OrthoInfo Basics Printable PDF Handouts
Meet the needs of all of your patients with OrthoInfo Basics. These printable PDF handouts address the most common musculoskeletal conditions and treatments in plain, straightforward language written to maximize reading comprehension. Like all OrthoInfo content, Basics are developed and peer-reviewed by orthopaedic surgeons.
Basics handouts can be printed and used as they are—or they can be easily customized with your practice logo and contact information. Basics handouts may be printed by AAOS member surgeons for individual use with their patients, but are not intended for institutional use. For information on the licensing of OrthoInfo Basics for institutional use, please contact us at OrthoInfo@aaos.org.
For instructions on how to customize a handout with your practice logo and contact information, click here.
To print a one-page list of OrthoInfo Basics, click here.
How to Customize a Basics Handout
Follow the instructions below to add your logo and practice information to a Basics handout:
1. Click on a handout in the Basics library above to download it and save it to your files.
2. Click in the upper righthand corner of page 1 of the handout to upload your practice logo from your files. Logos can be in JPEG or PNG file format.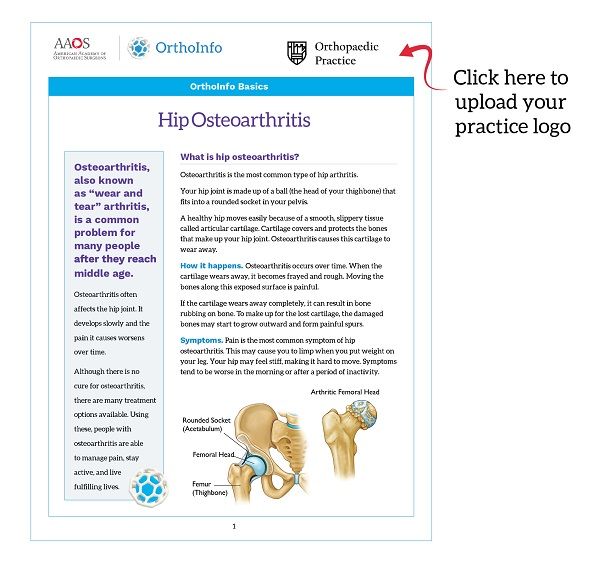 3. Place your cursor in the shaded box at the bottom of page 4 of the handout to type in your practice name, contact information, and web address, as shown here: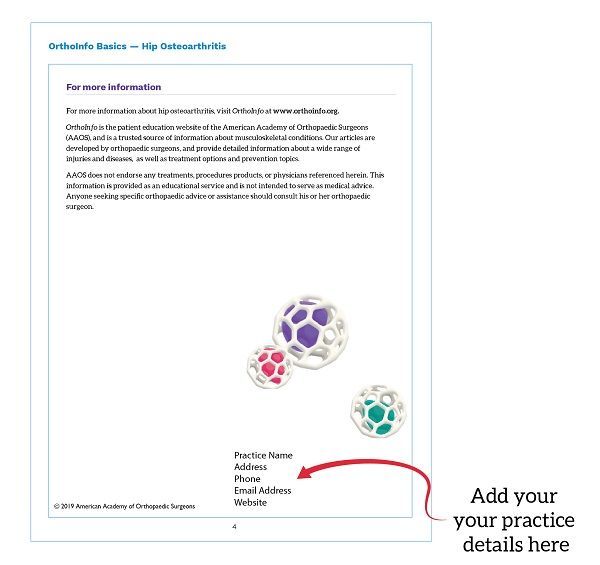 4. Save the handout to your files.
Last Reviewed
February 2019
AAOS does not endorse any treatments, procedures, products, or physicians referenced herein. This information is provided as an educational service and is not intended to serve as medical advice. Anyone seeking specific orthopaedic advice or assistance should consult his or her orthopaedic surgeon, or locate one in your area through the AAOS Find an Orthopaedist program on this website.